St. Joseph College Higher Secondary School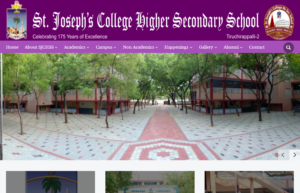 About Client:
With the motto "Pro Bono Et Vero" meaning "For Truth and Goodness" St.Joseph's College Hr.Sec.School, Tiruchy is serving the students for an all round development of personality through the vehicle of education for a period of 175 years. Numerous stalwarts, business tycoons, entrepreneurs and educationists have emerged out of this prestigious institution.
About Task:
It's a complete CMS based portal development. has fully responsive with HTML5 technology. That Portal contains much more sophisticated lot of new technologies options.